Fallado's crew
<![if !supportEmptyParas]> <![endif]>
<![if !supportEmptyParas]>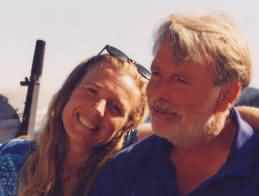 <![endif]>
<![if !supportEmptyParas]><![endif]> Meryle and Helmut<![if !supportEmptyParas]> <![endif]>
and how they came to sail around the world together..
<![if !supportEmptyParas]> <![endif]>
"I heard you're sailing to Tenerife tonight. Can I hitch a ride?"
A sailboat. Just another way of getting from A to B., I reasoned. O.K, so there was a chance I'd feel a bit seasick, but in a few hours I'd be on terra firma again and then on a plane to London.
Forty thousand miles and a circumnavigation later I'm still aboard that sailboat. Somehow I never managed to catch the plane I intended to catch. Must have had something to do with the fact that I fell in love with the skipper and his dream of sailing around the world.
<![if !supportEmptyParas]> <![endif]>
At first it seemed unlikely; He was a retired German businessman and experienced sailor. I was an independent backpacker with no sailing experience whatsoever. Our backgrounds couldn't have been more different. Helmut had spent years planning his dream boat, a boat he wanted to cruise aboard for the rest of his life. Retiring early, he had sold his home and moved into a caravan so he could live onsite and supervise the building of his specially commissioned catamaran. At the end of 1990 "Fallado"  was ready to go to sea. Leaving northern European waters, he sailed with friends aboard to Spain, Portugal and the Canary Islands, from where he planned to continue on across the Atlantic when the time was right.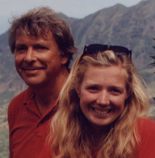 And me? I guess you could call me a "travel-aholic". From an early age I was fascinated by the idea of traveling to foreign countries, absorbing their history and culture. While my childhood was spent in a rural environment, in average Australian country town, a move to the city to further my studies only strengthened my resolve to go beyond the boundaries of my country of birth. I worked for a year after graduating, saving like crazy to put together a modest travellng fund. Then there was no stopping me. I  jumped on a plane bound for Cairo and explored the Middle East before heading through to Europe. I crammed in six weeks in the U.S. before boarding a flight back to Australia.
A year of travel had only whetted my appetite for more. I got a job as a teacher and started saving again. I flew out twelve months to the day that I had arrived back home, this time without a return ticket. First I traipsed through Asia and India before returning to the Middle East and Europe. By December I was in central Spain. Being used to warm Christmases in the Southern Hemisphere, I was feeling decidedly chilly as the festive season approached. Yet I was enjoying Spain, even picking up some Spanish. "Why not go out to the Canary Islands", someone suggested? Politically part of Spain, but geographically level with Northern Africa, so definitely no white christmases. Sounded good to me!
.
I'd been in Gran Canaria for more than a month before I really had any contact with the people aboard the yachts in the marina fronting the small town of Puerto Mogan. But once I started to talk to them I realized a similarity. They were doing what I was doing. Travelling independently around the world. The big difference was that they controlled their own means of transport . I was dependent on trains, planes and ferries. And inside their boats they carried their households, or at least a few home comforts. I had to carry everything I owned on my back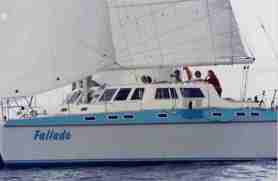 On that first night's sail to Tenerife I learned a bit more. I spent the most uncomfortable night of my life, hanging over the stern, feeding the fish. Life on a pounding sailboat had nothing to do with home comforts. How could people spend their entire lives doing this? 
Next morning, after catching up on some sleep in the blissfully calm anchorage, I felt more positive. "Why didn't I continue on to Gomera, the next island", Helmut suggested. He could drop me off in Tenerife on the return trip.
This time it was different. I stood at the helm, my eyes concentrating on the horizon. My seasickness was gone. And on the return trip I didn't leave "Fallado". Instead, I returned with Helmut to Gran Canaria where our relationship developed first into a deep friendship, then love. As we learnt about one another, we learnt to work together. Nine months later, when we left to cross the Atlantic, "Fallado" had a competent team on board. More than a decade on, we are now husband and wife, and "Fallado" remains our floating home.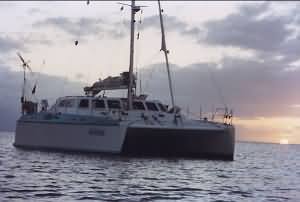 <![endif]>