Fallado
A CATAMARAN FOR A CRUISER
Seaworthiness, safety and comfort in a proven
long distance cruiser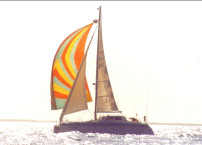 Helmut and I have spent the last decade living and cruising aboard our 44 foot catamaran Fallado". She has taken us right around the globe, sailing a route that took us around the four Southern Capes and along coastlines and stretches of ocean with some very diverse sailing conditions. Just why do we sail a cat? During the 1980s, when Helmut began planning for his early retirement and his associated dream of sailing his own boat around the world, he knew two things. He was going to achieve his dream, and he was going to do it in the right boat. A sailor for many years, he had sailed extensively in Europe's northern waters aboard monohulls. A well founded boat, along the lines of the Norwegian Colin Archer type heavy displacement keelers was what he was originally on the lookout for.
Then a fellow German, Burghard Pieske returned from his circumnavigation aboard "Shangri- la", a 40 foot catamaran, via a route that had taken him around Cape Horn. Good promotion for a type of boat that, although slowly gaining in popularity, was still more associated with racing and had a reputation for capsizing and breaking up in really heavy weather. After a bit more research, Helmut came across a designer of multihulls who understood the concept of comfortable cruising in a strong, seaworthy boat. A shipyard in Germany began construction and "Fallado" was lauched within twelve months.
Everything in Fallado's design revolves around the primary goal of seaworthiness. High on the list of possible risks associated with sailing multihulls is the danger of pitchpoling. Slim, sharp bows with insufficient buoyancy dig in, plunging underwater, and when the stern is lifted up by a following wave, can't rise again. In contrast, Fallado's bows broaden rapidly as they reach back towards the stern. Even more significant is the increased volume gained from the flaring out of the hull from the waterline to the bridgedeck. Both factors together are responsible for the immense increase in volume (translating into buoyancy) when her bows dig deeper into the water.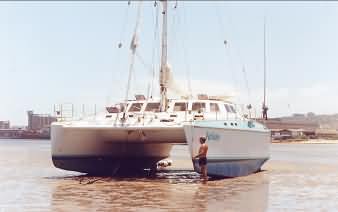 During the South Pacific's Queen's Birthday storm in 1994, we experienced a situation surfing down a steep 12 m sea with 17 knots boat speed, where this additional buoyancy in the bows certainly saved us from pitchpoling.
From a liveaboard point of view, the wider hulls above the waterline also translate to more living space in the hulls. Underwater, Fallado's hulls are flat, with no keel at all and a maximum draft of 0.7m. This gives us minimal underwater surface area, and less possibility of being capsized by waves that hit broadside. On the day we rounded Cape Horn, the sea state was very confused. We had winds gusting up to 45 knots and a wild sea full of short and irregular waves. At one point a huge wave reared up on Fallado's port side. There was a bang like a gunshot as the steep wall of water hit the port hull along its entire length from bow to stern. We felt an enormous acceleration as we sped sideways with the wave. Our friends on a schooner only a short distance away estimated we slew sideways about 20 to 30 metres but also noticed that we didn't heel much, less than 10 degrees in fact.
Fallado's structure is built to withstand extreme forces of wind and sea (Helmut even wrote into the contract that she had to be capable of sailing around Cape Horn). Sailing on the wind means each oncoming wave hits first the bow of one hull, creating enormous torque. In the next movement, when it picks up the other hull, the opposite torque is established. These changing loads are very demanding on structure and construction materials. As far as wind forces go, a cat doesn't heel evenly in response to squalls like a monohull. Sudden wind increases create much bigger forces on the rig, mast and sails.
Salient points in Fallado's construction include:
- a superstructure built with West System. One inch duraKore (a sandwich of cross grain balsa and one and a half mm hardwood on either side) sheathed in fiberglass and epoxy, 2000 grams per square meter on both sides. A lot of thought went in at the time of construction regarding the materials used as they are several times more expensive than the more usual constructions of foam core and polyester/ fiberglass, but we were convinced that it pays out in the long run, as we don't have to worry about 'delaminating' and 'osmosis', both common problems in modern boat building.
-a solid base to the hulls built up from 5 layers of 8mm strip planked cedar. This is reinforced with kevlar, as are other stress areas.

-five bulkheads, the three main ones are 82 mm thick, internally framed and with ply cladding on both sides. It is specially reinforced to allow for 40 t of load.
-The bridgedeck is built in the same way and to the same thickness.
An 800 mm clearance above the waterline ensures only the very occasional wave hits under the bridgedeck. When Fallado was first launched the bridgedeck clearance was only 700 mm. Designer and shipyard however decided to add a layer of 100 mm closed cell foam enclosed again with epoxy/fiberglass to the bottom of the hull . Then the very important design aspect of 800 mm bridgedeck clearance was met.
- aluminium cross beams fixed laminated into the hulls, rather than hinged on by metal fittings, taking some of the load which would otherwise be taken by the hull bridgedeck connection, an area many designs have problems with.
- a skeg in front of the rudder giving protection to the rudders. To avoid damage to the saildrives and a potentially large hole in the hull if one of them is hit, inverted tripods built of aluminium spreader profile are positioned around them. They also act as a resting point when falling dry; Fallado sits nicely balanced on the widest part of her flat hulls and the tripods to the rear.
- rigging features are over dimensioned for extra strength and durability. The 7/8 sloop rig has a diamond stayed mast with a slight bend achieved through two pairs of spreaders facing backwards and one facing forwards, making the mast less likely to pump in heavy seas.

All our sail handling can be done from the cockpit, hoisting sails, reefing and even gybing downwind with a poled out genoa. The mainsail is fully battened, with a lazy jack system for ease of handling. The large gennaker, which we made good use of on ocean passages in light airs, is raised and lowered with the aid of a sock.
Performance wise, a cruising multihull is always going to be a better performer than the same length cruising monohull. In 15 to 17 knots beam reaching conditions we can clock 200 mile days. When the wind picks up and the sea builds, we reef to slow down to a comfortable speed. Depending on the sea state, we can keep an apparent wind angle of between 40 and 50 degrees, which compares quite well with the average cruising boat. Originally Helmut pressed Fallado's designer to incorporate daggerboards to enable Fallado to point higher to the wind; however the 8 degrees improvement was not worth the hassle and we have since dispensed with them. In reality, sailing high on the wind is not a high priority for blue water cruising which sensibly times its passages to take advantage of favorable winds.
Fallado weighs about 11 tons, fully laden for an ocean passage. She is of course not one of the modern light weight designs, built for top speed in light wind conditions. Our priority though lies in th area of comfort and seaworthiness. Helmut still remembers sailing in one of these light weight machines in the Mediterranean in a moderate sea many years ago: bottles were flying out of their racks underneath the table, a couple of coffee cups that hadn't been stowed away were catapulted to the roof and broke in many pieces as they crash landed back on the table, the kettle bounced several times off the stove and landed finally on the floor, and everyone had to walk in a special posture on the floor flexing from the wave impact, to avoid a serious back injury.
At the time all of this was fun as it was just a day sail along the coast, but as long distance cruisers (and with all of our own housewares on board!) we prefer to live on sea as comfortably as possible.
Careful consideration to "Fallado's" internal layout has really paid off for us. Helmut drew and redrew the interior plans over and over again so that every inch of available space would be maximized. On long passages, our large chart table area and navigation station comes into its own. Located up on the bridgedeck with 360 degree visibilty, its where we spend most of our time on watch, only needing to go into the cockpit for sail adjustments. It has a dual helm, second set of engine controls, Brookes and Gatehouse Hydra screens giving all relevant information concerning wind, boat speed, course, depth etc. , separate GPS, radar, and several radios (HF, VHF, Ham) weather fax, laptop computer, electrical switchboard and monitoring gauges.
The galley is also on the bridgedeck, handy both to the saloon dining and cockpit dining areas. In the port hull we have a walk-in workshop, with a workbench and storage for spare parts and a large assortment of tools. There are separate toilet, washbasin and shower facilities located in both hulls. Both our cabin and a guest stateroom are in the forward section of the hulls, with the queen sized berths positioned over the brigedeck, forward of the mast.
We carry plenty of diesel and water (800 litres of each) in tanks located in the bilges. In one way, our catamaran is "double trouble" as we have doubled up on most things; 2X 34 hp saildrive diesel engines, a diesel heater in each hull, 2 toilets, showers and pump out and holding tank installations, two anchor winches and anchors ready to drop from their position in the teak catway between the trampoline nets in front, two autopilots (B & G and TMQ) that we can switch between, both operating on the same hydraulic ram unit. Doubling up can be a godsend though when you are in the middle of nowhere as it's always handy to have a backup not just there, but all installed and ready to go. The downside is of course more maintenance, (scrubbing down and antifouling two complete hulls is really a pain in the bottom) and of course the added cost. But to balance all of that, Fallado has let us live the dream of sailing our way around the world in safety and in comfort, even in some pretty unkind conditions.
DETAILS Designer Harm Venema Built 1990, Multihull GmbH Kalkar, Germany LOA 44 ft BOA 24 ft Bridge deck clearance 0.8 metre Draft 0.7metre Main 48m2 Genoa 45m2 Gennaker 80m2
click a picture to enlarge